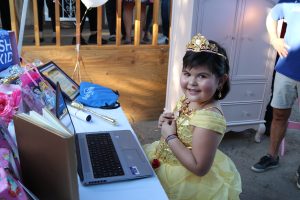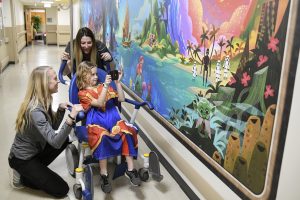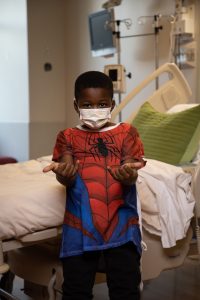 Delivering Joy When It's Needed Most
Disney creates immersive experiences and personal moments that deliver comfort and joy to children facing serious illness.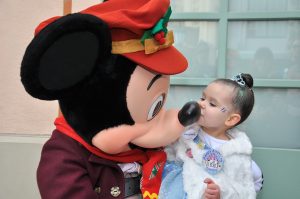 Providing Transformative Wish Experiences
Beginning with the first wish that Make-A-Wish® granted over 40 years ago, Disney has fulfilled more than 145,000 magical wishes globally through Make-A-Wish. Traditionally, Disney grants more than 11,000 wishes annually with 100 wish granting organizations, ranging from theme parks and resorts experiences to movie premieres, shopping sprees, visits from characters and favorite celebrities, sports experiences, and more.
"Disney stories and characters provide a shared vocabulary between our young patients and their medical team. The magic of Disney restores some childhood innocence during a very difficult time and allows us as caregivers to be at our very best."
Dr. James B. Fahner
Endowed Division Chief, Pediatric Hematology and Oncology, at Helen DeVos Children's Hospital/Spectrum Health
A 
Legacy of Support for Kids and Families
Since Walt first brought animators and characters to visit hospitalized children, Disney stories have inspired a world of hope for seriously ill children.  
In 2018, Disney announced a global commitment of $100 million to help reimagine the patient journey in children's hospitals. Teams across the company, including our world-renowned Walt Disney Imagineers, worked with a global network of experts to identify unique experiences Disney could provide that would ease the anxiety of a hospital stay. 
Immersive Experiences & Personal Moments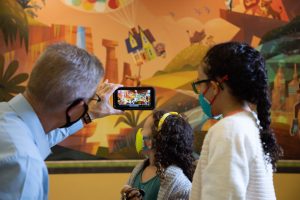 Interactive Murals
Visually stunning wall art draws children into the vibrant worlds of Disney's storytelling. Augmented reality content can be unlocked with the Disney Team of Heroes app for additional surprise and delight moments.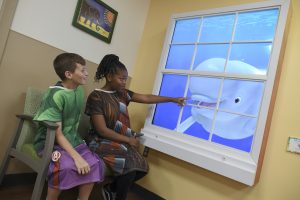 Captivating Digital Displays
Delightful digital screens such as the magic window and magic art will spark to life with favorite characters and transport patients into the worlds of beloved stories.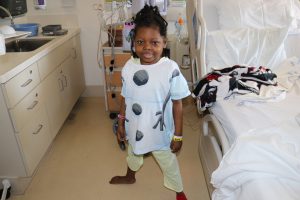 Empowering Character-themed Starlight Hospital Wear
Favorite characters and designs from Marvel, Star Wars, Pixar, Frozen, Mickey & Friends, ESPN and Disney Princesses help reimagine children's hospital wear as fun, comfy, and colorful.
Learn more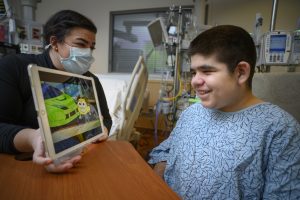 Complimentary Content Access
In-theater movies are made available to children's hospitals through the Disney Movie Moments Program. Child Life teams use the movies and Disney+ content, sometimes on a Disney-designed mobile movie theater, to help ease the fear and anxiety of a hospital visit.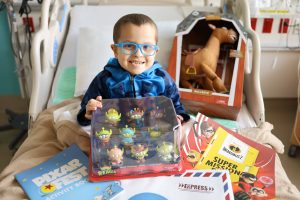 Delightful Deliveries
A variety of toys, books, games, movies and more from across the Disney family of brands give patients choice and a sense of the familiar so their hospital stays are less intimidating.
Learn More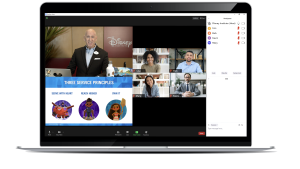 Support for Hospital Staff
Customized training provided by Disney Institute and Disney-themed badges equip hospital leaders and staff of all levels with engagement tools and personalized knowledge to enhance patients' and families' experiences.
11K+
hospital workers completed training through Disney Institute
145K
magical wishes granted globally with Make-A-Wish since 1980
91%
say the Disney experiences in children's hospitals have a positive impact*
~100
global wish-granting organizations working with Disney to deliver wishes
750
hospitals supported globally
* Respondents of survey open 10/20-9/21 to adults at participating hospitals
Providing Comfort & Inspiration For More Than 80 years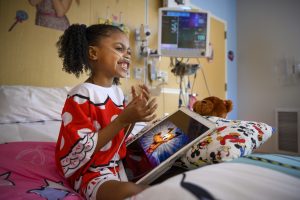 2021
Disney+ expanded access to Child Life teams in children's hospitals and places of care in more than 30 countries.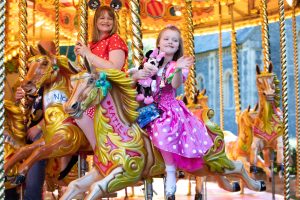 2020
Disney celebrated 145,000 magical wishes granted with Make-A-Wish globally.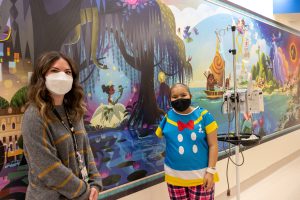 2019
The Walt Disney Company announced in 2018 a $100 million commitment to reimagine the patient experience in children's hospitals and in 2019, the new experiences were piloted at Texas Children's Hospital in Houston.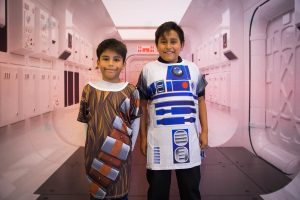 2017
Disney-themed Starlight Gowns are introduced.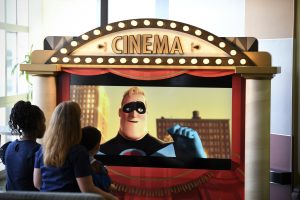 2014
Disney Movie Moments program was launched to bring new movies that are still in theaters to hospitalized children and their families.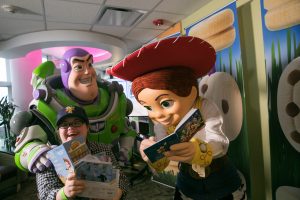 2001
Disney and Starlight Children's Foundation begin delivering toys, books, games, and more to seriously ill children to add normalcy to a child's hospital stay.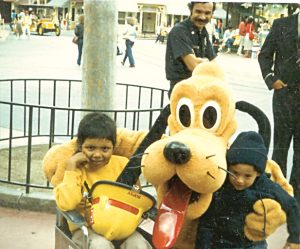 1980
The first-ever wish request from Make-A-Wish included a trip to Disneyland. Since then, Disney has grown to grant half of all wishes by Make-A-Wish in the United States in a typical year.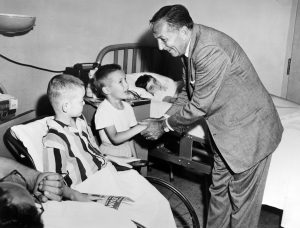 1930
Disney's early support of children's hospitals dates to the 1930s, when Walt Disney would visit with recuperating children, sometimes screening his studio's films for them. Later, more elaborate programs with Disney characters and artists would also be employed to provide children with additional moments of comfort and joy.