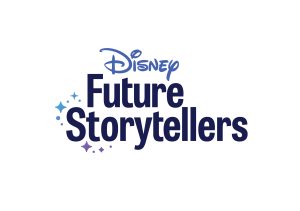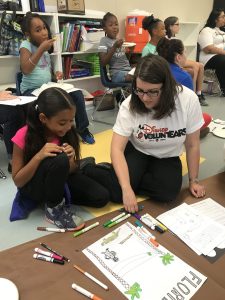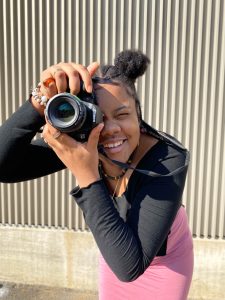 Disney Future Storytellers
Dream. Build. Become.
Disney Future Storytellers is The Walt Disney Company's commitment to empowering the next generation of storytellers and innovators. Through social investments and programs that provide inspiration and hands-on experience, we're increasing access to careers in media, entertainment, technology, and hospitality, and helping ensure the stories being told across our industry accurately reflect the rich diversity of the world we live in. From arts and STEM education for school-age children, to scholarships, mentoring, and creative and technical skill- building for teens and young adults, Disney is helping today's youth dream about their future, build their talents and skills, and become who they imagine they can be.
Empowering the Next Generation of Storytellers and Innovators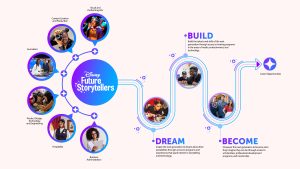 DREAM
Sparking interest in storytelling & inspiring the next generation to DREAM about their possibilities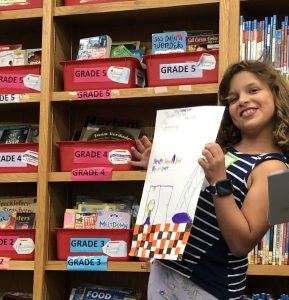 Young Storytellers
Young Storytellers equips young people to be the driving force of their own narrative. Disney supports the Young Storytellers Script to Stage program by matching elementary school students with employee VoluntEARS who serve as one-on-one mentors as students write scripts that are entirely their own. These stories are then performed by professional actors live on stage for the students, their classmates, and their families.
Learn more about Young Storytellers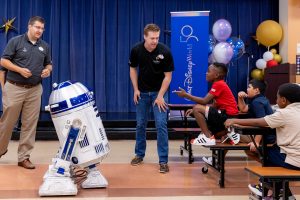 FIRST
For over 25 years, Disney has proudly supported FIRST® (For Inspiration and Recognition of Science and Technology), a robotics community committed to introducing youth to STEM through team-based robotics programs. In 2022, Disney, Lucasfilm, and FIRST announced "Build the Future" powered by Star Wars: Force for Change. "Build the Future" has provided FIRST teams around the world the opportunity to tell their own unique stories about using their STEM skills for good.
Learn more about FIRST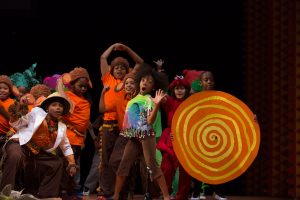 Disney Musicals in Schools
Disney Musicals in Schools builds sustainable theater programs in under-resourced public elementary schools. The program provides free performance and professional development materials to participating teachers. Launched in 2009, Disney Musicals in Schools has supported more than 60,000 students in over 500 schools in the United States and the United Kingdom, providing inspiration and opportunity to more than 180,000 families and audience members.
Image Credit: Lorenzo Ciniglio
Learn more about Disney Musicals in Schools
BUILD
Supporting essential training and development programs to help youth BUILD their talents and skills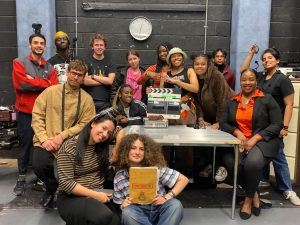 Ghetto Film School
Ghetto Film School was founded in 2000 to educate, develop, and celebrate the next generation of great storytellers. Disney is proud to work with Ghetto Film School to support the GFS Fellows program, a multi-year intensive storytelling course that gives high school students access to meaningful professional experiences in entertainment, like providing hands-on technical training, helping students build portfolios, connecting students with paid internships, and offering opportunities to be inspired by top filmmaking talent.
Learn more about Ghetto Film School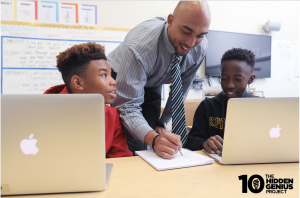 The Hidden Genius Project
The Hidden Genius Project trains and mentors Black male youth in technology creation, entrepreneurship, and leadership skills to transform their lives and communities. Through its award-winning 15-month Intensive Immersion Program, The Hidden Genius Project has served more than 400 Black boys and young men through high school and beyond, developing computer science, leadership and entrepreneurship skills. With the support from Disney, The Hidden Genius Project will continue to engage youth of color through their array of innovative programs designed to ignite interest and exposure to technical career pathways.
Learn more about The Hidden Genius Project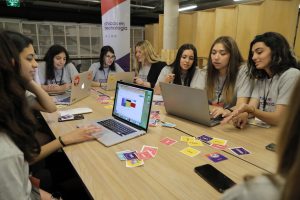 Protagonistas del futuro
Chicas en Tecnología is a non-profit civil society organization in Argentina that seeks to reduce the gender gap in technology in Latin America. Since 2020, Disney's investment in Chicas en Tecnologia allowed launch "Protagonistas del Futuro", a free online program for female-identifying young people between 16 and 21 years old. Through "Protagonistas del Futuro," participants learn how to program an application with a social impact focus, building the skills needed to pursue technology careers in Latin America. In addition, an opportunity to receive scholarships in Full Stack Development certification will open up this year.
Learn more about Chicas en Tecnologia
BECOME
Empowering young adults to BECOME who they imagine they can be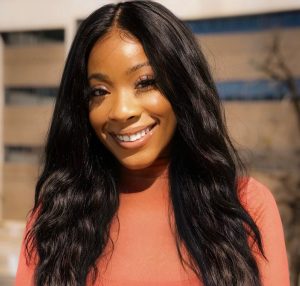 "The Disney-UNCF Corporate Scholars Program has been nothing short of incredible throughout my career journey: the opportunity to network and engage with other like-minded students is the best part! I'm excited about my future in the TV and Film industry, especially with my new role with the National Geographic Post-Production team, because I know it all started with my first internship through the Disney-UNCF Corporate Scholar Program."
Jade Henry
Content Operations & Post-Production Assistant, National Geographic