A Disney's Ariel-Inspired Journey From Make-A-Wish® Kid to Disney Cast Member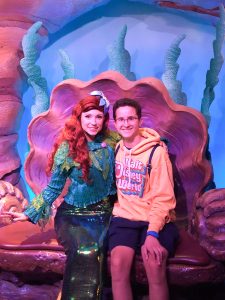 Charitable Giving
August 25, 2023
"Someday, I'll be part of your world." This uplifting thought kept Make-A-Wish kid, Dylan, going during his battle with leukemia. Ariel was always his favorite character, for a very special reason.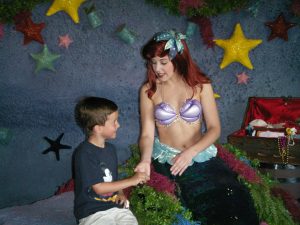 In August 2017, Dylan was diagnosed with leukemia and had to be excluded from the fun his high school peers were experiencing. While everyone around him, including his twin brother, was taking on the world outside hospital walls, he found solace in the story of "The Little Mermaid." Dylan shared, "Ariel's determination to break free from her underwater realm was like my drive to overcome leukemia. She gave me such a sense of hope."
Following a relapse, Dylan received a bone marrow transplant in June 2018 through Be The Match, an organization that unites donors and recipients in critical need of a blood stem cell or marrow transplant.
Dylan expressed, "Once my health improved, my determination paid off and my wish to travel to Walt Disney World for an Imagineer experience was granted. There, I received a behind the scenes tour of Star Wars: Galaxy's Edge from Imagineer Diego Parras, and of course, met my friend Ariel in-person!"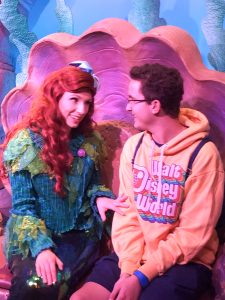 Having witnessed first-hand the transformative power of a wish, Dylan used his story to make a difference. He re-joined Make-A-Wish's Greater Bay Area chapter in 2020 as a volunteer to help build the Wish It Forward program and also served as a marketing intern the following summer. He also became involved with Be The Match at his university, Saint Mary's College of California, to honor his bone marrow donor, Ryan, who he credits with saving his life and is 'part of his world' today.
Dylan said, "Having my amazing wish granted at Walt Disney World made me realize I didn't just want to experience Disney magic, I wanted to help make it!" In June 2023, Dylan's dream to work for Disney became a reality as he began a Disney Professional Internship on the Disneyland Resort Executive Communications team.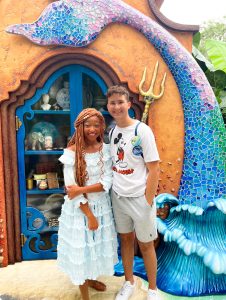 Like Dylan, many wish kids draw strength, hope, and inspiration from Disney princesses. Last week, Dylan was joined by fellow cast members at Walt Disney World to host a special wish-granting event where more than 50 families from across the country had their princess wishes come true at Once Upon A Wish Party.
This first-of-its-kind event was held in honor of World Princess Week and dreamed up just for wish kids and their families. It was a full-day affair filled with enchanting surprises, inspiration, and adventures fit for a hero or heroine, including a royal ball with favorite Disney characters… including Ariel.
Dylan shared, "I am so grateful to be part of a company that helps make wishes and dreams (like mine) come true."
To learn more about how Disney and Make-A-Wish create magical wishes together, visit wish.org/Disney.