Aulani Wish Week: A Hallo-WEEK of Wish-Granting at Aulani, A Disney Resort & Spa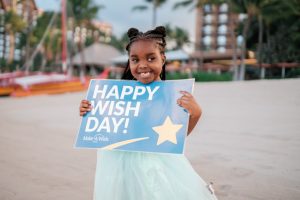 Charitable Giving
November 2, 2023
In Fall 2023, Aulani, A Disney Resort & Spa joined forces with Make-A-Wish Hawaii to bring the aloha spirit to wish kids with the first-ever Aulani Wish Week. Aulani Resort welcomed 20 wish kids and their families for a spooktacular, week-long bash full of thrills, chills, and ghoulish good times!
How Cast Members Brought Disney's Aulani Wish Week to Life
Disney has worked with Make-A-Wish® since 1980 to grant more than 150,000 wishes and is the largest wish granter in the world for Make-A-Wish. Historically, one out of every two wishes granted in the U.S. through Make-A-Wish have been a Disney wish.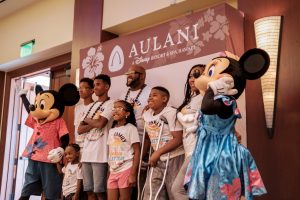 Of these wishes, approximately 150 per year are to visit Aulani Resort for a unique Hawai'i vacation with a touch of Disney magic. In that spirit, cast members across Aulani Resort worked together to dream up a week filled with authentically-Aulani surprises.
"Our goal, first and foremost, is to help families create memories," said Joe Medwetz, Senior Sales and Services Director at Aulani, and board member at Make-A-Wish Hawaii. "We love to see the joy on the children's faces when their dreams come true at Aulani."
Reminiscing on the Magic of Aulani Wish Week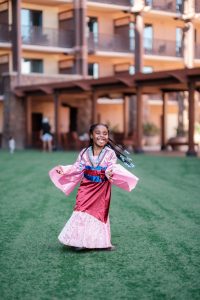 Building on the success of Walt Disney World Resort that made princess wishes come true at Once Upon A Wish Party, Aulani Resort shared a warm aloha with 20 children with critical illnesses who wished to experience the magic of Aulani Resort. The unforgettable week was jam-packed with magical touches, including a dinner party with Stitch and Angel, a Halloween Dance Party, and the famous KA WA'A Lū'au, brimming with rich Hawaiian traditions, delicious food, and enchanting performances.
During the week, 11-year-old wish kid Elijah's wish was granted. While fighting an aggressive form of bone cancer, his life was changed by a music therapist, whose guitar melodies provided solace and momentarily interrupted his pain. Music is a beautiful and meaningful part of Hawaiian culture, and you'll often hear the delightful chords of the 'ukulele, one of the islands' most popular instruments, fill Aulani Resort – the perfect wish fit for Elijah.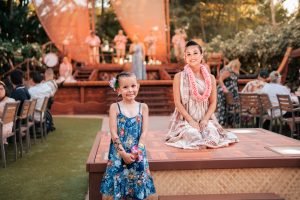 Aulani Wish Week is one of the many ways Disney brings wishes to life across Disney Parks, Experiences and Products. Following the Halloween fun of Aulani Wish Week, a Disney wish-granting event will also take place at Hong Kong Disneyland Resort in December 2023 in celebration of the opening of World of Frozen.
To learn more about how Disney and Make-A-Wish create magical wishes together, visit wish.org/disney.