Disney and Valley Children's Team Up to Deliver Comfort and Joy to Patients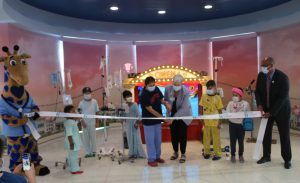 Charitable Giving
June 30, 2022
Disney brings interactive artwork and imaginative installations to Valley Children's Hospital to deliver comfort and joy to children and their families during their stay. As part of the unveiling event, Disney hosted a special viewing of Disney and Pixar's latest film, Lightyear. Pixar artists were onsite to show kids how to draw animated characters. Longtime Disney collaborator Starlight Children's Foundation® was also at the event to deliver hospital wear featuring Pixar characters and Disney-themed care packages for patients filled with fun activities and keepsakes.
"At Valley Children's, our doctors and staff provide the most exceptional care for our kids – and we also recognize the importance of playtime, wonder, and joy to a child's recovery," said Beverly Hayden-Pugh, Valley Children's vice president, chief nursing officer, and chief transformation officer. "We thank Disney for bringing their beloved characters and creativity to our hospital and easing the stress of our families during their stay."
Teams across the Company, including the world-renowned Walt Disney Imagineers, worked with a global network of experts to identify unique experiences Disney could provide that would ease the stress of a hospital stay. Among the experiences now featured at Valley Children's Hospital are:
Magic Windows – special installations that offer patients mesmerizing views into beloved stories from the worlds of Disney, Pixar, Marvel, and Star Wars
Character Ceiling Tiles – visually-stunning art that draws children into the vibrant worlds of Disney's storytelling
Magic Art – delightful digital screens with favorite characters that deliver fun, animated, and inspirational messages to patients in English and Spanish
Character-themed Starlight Hospital Wear – familiar characters and designs on hospital wear provide patients with fun and comfy clothing to wear during their hospital stay
Mobile Movie Theater – inspired by the cinema on Main Street, USA at Disneyland Resort, the mobile movie theater offers patients and their families a place to gather, create memories, and watch complimentary Disney movies and other content
Existing experiences include:
Disney Movie Moments – special screenings of newly-released Disney movies offer opportunities for families to create happy memories at the hospital
Disney+ – child life professionals can share the content on Disney+ with children as a way to ease the anxiety of a hospital experience
Magic windows and magic art are also featured at select Valley Children's Primary Care practices, including Sky Park Pediatrics in Fresno and Magnolia Pediatrics in Clovis.