Disney Celebrates Arrival of TRON Lightcycle / Run with Orange County Public Schools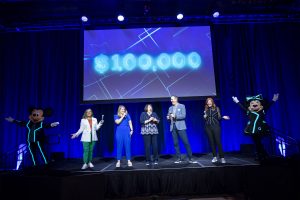 Charitable Giving
April 3, 2023
TRON Lightcycle / Run presented by Enterprise had its grand opening on April 4, 2023, and officially welcomed new "users" to the Grid. Disney celebrated this milestone with the Central Florida community and shared some exciting news: Disney World donated $100,000 to help enhance STEM education in Orange County Public Schools!
"We can always count on Disney to provide for our schools and students in innovative, fun and thoughtful ways," said Orange County Public Schools Superintendent Dr. Maria Vazquez. "This generous donation will help our teachers bring STEM to life in the classroom and will help provide our students with experiences they'll treasure for a lifetime."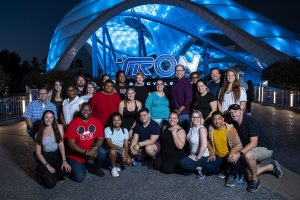 Empowering the next generation of diverse storytellers has always been important to Disney, and this latest donation builds on our long legacy of supporting local schools, students, and teachers. This continued commitment is part of Disney Future Storytellers and ensures that our future innovators receive the skills and hands-on experiences they need to dream about their futures, build their talents, and become who they imagine they can be – which could one day lead them to a career at Disney.
This was the perfect way to close out the 50th Anniversary celebration of Walt Disney World Resort which was filled with so much community magic. Over the course of the 18-month celebration from 2021-2023, Disney gave more than $6.5 million in grants to 60+ nonprofits, and Walt Disney World cast members personally volunteered more than 233,000 hours at local organizations through our Disney VoluntEARS Program.
Looking ahead, Disney will continue to support the people and places around us for the next 50 years and beyond, bringing the power of Disney's stories, characters, and immersive experiences directly to our community.
To learn more about other ways Disney supports the community through initiatives like Affordable Housing, visit DisneyWorldGivesBack.com.