Disney-Themed Delivery Helps Kids at Children's Hospitals Nationwide Get into the Halloween Spirit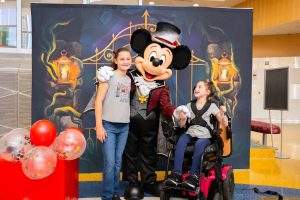 Charitable Giving
October 31, 2023
During the 2023 Halloween season, The Walt Disney Company collaborated with the non-profit Starlight Children's Foundation to deliver Disney-themed costumes, wheelchair covers, toys, and books to children's hospitals nationwide. To celebrate the delivery, pediatric patients at Nemours Children's Hospital, Delaware in Wilmington were treated to a fun-filled day of films, costumes, and a chance to meet Mickey Mouse himself.
The Disney-themed Starlight delivery, featuring products from shopDisney, allowed pediatric patients to experience the magic of Halloween and also provided them with a much-needed break from procedures and treatments. "I was really stressed about this surgery on Wednesday, but now I don't think about it anymore because I have Mickey Mouse here," said Natalie Corbett, a parent of a patient at Nemours Children's Hospital, Delaware. "It's wonderful to have such a healthy distraction in a stressful time of life.
From superheroes to princesses, pediatric patients were able to embrace the power of play and partake in a normal childhood experience from the safety of the hospital. "Kids should be able to participate in the fun, regardless of their circumstances," said Bernie Prazenica, President and General Manager at 6 ABC. "We hope the products from our shopDisney team will provide patients and families with a much-needed break from treatments and procedures, and let kids be kids again."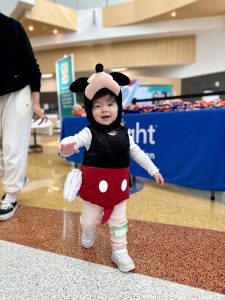 For more than 20 years, The Walt Disney Company and Starlight Children's Foundation have been teaming up to bring Disney stories and characters to over 800 children's hospitals and pediatric places of care throughout the United States. Hospitals receive Disney-themed Starlight hospital gowns and pants, toy deliveries and care packages, as well as complimentary Disney+ and Disney Movie Moments access. Utilized by Child Life Specialists and clinicians to provide play and comfort to pediatric patients, these vital programs are Disney-funded and offered at no cost to hospitals.
"The Child Life program at Nemours Children's Health is dedicated to going beyond medical care to enhance the lives of our patients and their families by providing free support services and fun activities," said Jennifer Sciolla, Assistant Vice President, Child and Family Services, Nemours Children's Health, Delaware Valley. "We are very thankful for the generous delivery from Starlight Children's Foundation and Disney. Their support helped to create a magical and unforgettable Halloween event for our patients!"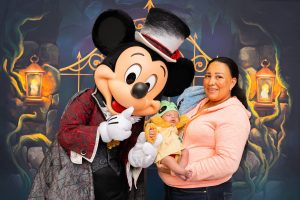 While play is a natural and essential part of childhood, it can be a powerful tool in promoting healing and recovery. With resources like toy deliveries provided by Disney, Child Life Specialists and clinicians use play to help young patients process their emotions, develop coping skills, and express themselves in a safe and supportive environment. And most importantly, it delivers joy and comfort to young patients and their families when it's needed most.