Disney to Host Royal Ball for Wish Families During World Princess Week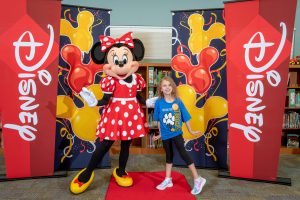 Charitable Giving
May 24, 2023
Hear ye, hear ye! We've got some royal news to share from Walt Disney World. During World Princess Week taking place August 20-26, 2023, Disney will be hosting one of the biggest wish-granting events ever with "Once Upon A Wish Party" – a special event dreamed up just for wish families. This party will be a full-day affair filled with enchanting surprises, inspiration, and adventures fit for a hero or heroine.

There will be tea and treats, character meet and greets, and wish kids visiting from all across the country will be proclaimed royalty for the evening at a ball they're sure to remember forever. So, how do all royal balls begin? With invitations, of course! Happening right now, wish granters and magic makers are working hand-in-hand to deliver magical invitations to the guests of honor.
In May 2023, Minnie Mouse joined Disney cast members and the Make-A-Wish® team at Ventura Elementary School in Florida to let 7-year-old Scarlett know her wish of having a "Disney Princess experience" was coming true – the very first wish kid to be invited to the "Once Upon A Wish Party" event.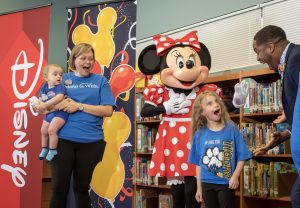 "She's going to have this super special experience and be able to go to the royal ball as a princess … I know she's going to enjoy every single second of it," Scarlett's mom said. "To see her happy and completely fulfilled is every mother's dream. It means so much that she'll be able to experience life as a normal kid at a theme park where we don't have to think about a lot of the medical stuff that has consumed our lives in the past."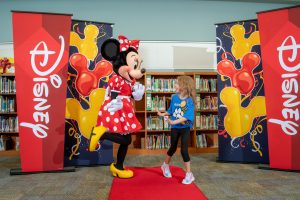 A lifelong fan of Disney Princesses, Scarlett was surrounded by nearly 100 of her fellow first-grade classmates and teachers when she heard the news. When she was just a baby, Scarlett's family learned she would need a heart transplant. After undergoing many surgeries and a transplant at 18 months old, school was always a place of comfort for her after so much time in the hospital, so Disney worked with its friends at Make-A-Wish and in the community to make it happen right before school lets out for the summer. Talk about an unforgettable way to wrap up the year!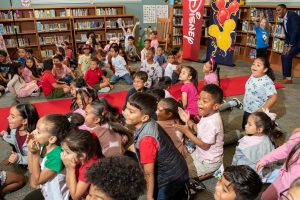 "Disney is the largest wish granter in the world, and over our more than 40-year relationship, we've granted some pretty incredible wishes together," said Leslie Motter, Make-A-Wish America President and CEO. "Whatever Disney does, they go all out. I can't wait to see the new happy memories Scarlett and our other attending wish families will be able to make at what is sure to be an unforgettable event."
While this will be a first-of-its-kind wish event at Walt Disney World, Disney knows wishes have the transformative power to change lives. In fact, Disney recently celebrated the 150,000th Disney-inspired wish with 16-year-old Mikayla from Palm Beach Gardens, Florida, who began her battle fighting cancer three years ago. As you may remember, Mikayla's day was filled with some pretty suite surprises at Magic Kingdom which you can read all about here.