ESPN's My Wish Series Spotlights Four Wish Kids Meeting Their Sports Heroes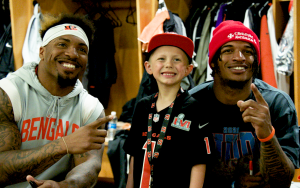 Charitable Giving
July 20, 2023
The award-winning ESPN "My Wish" series returned for its 16th season on Sunday, July 16, 2023, featuring stars from the NFL, MLB, and UFC. Since its beginning in 2006, the series has worked with Make-A-Wish® to fulfill 79 sports-themed wishes for children with critical illnesses.
This year's series of wishes featured Mike Trout of MLB's Los Angeles Angels; Ja'Marr Chase of the NFL's Cincinnati Bengals; UFC fighter Dustin Poirier; and Josh Allen of the NFL's Buffalo Bills.
Working together with Make-A-Wish, ESPN produced feature segments on the wishes that aired on SportsCenter.
Chris Connelly has hosted the ESPN "My Wish" series since the series began and returned again this season to tell these special stories.
"I wish to meet Mike Trout of the Los Angeles Angels" – Eli, 6, heart condition
A Spanish-language version of Eli's wish also appeared on ESPNDeportes.com.
"I wish to do the "Griddy" with Ja'Marr Chase from the Cincinnati Bengals" – Brixton, 6, leukemia
"I wish to meet mixed martial artist and UFC great Dustin Poirier" – Alden, 17, cancer
"I wish to meet the Buffalo Bills" – Caleb, 20, cancer
About The Walt Disney Company and Make-A-Wish
The Walt Disney Company, together with its subsidiaries and affiliates, including ESPN, is committed to delivering joy and comfort to children facing serious illness and to the people who care for them.
This includes Disney's efforts with Make-A-Wish and nearly 100 other wish-granting organizations around the world. Through this collaboration with Make-A-Wish, Disney has helped grant more than 150,000 life-changing wishes since the first wish was granted more than 40 years ago at Disneyland Resort. Wishes range from theme park visits to movie premieres, and character meet-and-greets to sports events, all with the goal of helping kids feel like kids, while creating special memories with their families.
To learn more about Disney and ESPN's efforts to deliver joy when its needed most, visit wish.org/MyWish.
About Make-A-Wish
Make-A-Wish creates life-changing wishes for children with critical illnesses. Founded in Phoenix, Arizona, Make-A-Wish is the #1 most trusted nonprofit operating locally in all 50 states throughout the U.S. Together with generous donors, supporters, staff and more than 24,000 volunteers across the country, Make-A-Wish delivers hope and joy to children and their families when they need it most. Make-A-Wish aims to bring the power of wishing to every child with a critical illness because wish experiences can help improve emotional and physical health. Since 1980, Make-A-Wish has granted more than 550,000 wishes in 50 countries worldwide; more than 360,000 wishes in the U.S. and its territories alone. For more information about Make-A-Wish America, visit wish.org.