From Make-A-Wish® to Making Magic: A Disneyland Cast Member's Journey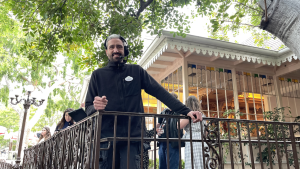 Charitable Giving
May 26, 2023
Disneyland Resort celebrated World Wish Day by dedicating three windows on Main Street, U.S.A. to Make-A-Wish and the first two wish kids. While dedicating the first windows in Disney Parks' history to a nonprofit organization was an incredibly special moment, the day meant something much more to cast member and Make-A-Wish alumni, Colin Smith.
When Colin was a child, he was diagnosed with stage four cancer. A year into his treatment, Make-A-Wish granted his wish to visit Disneyland Resort with his family and meet two of his favorite characters, Winnie the Pooh and Eeyore. Decades later, now working at Disneyland, Colin discovered that his leader, Lori, was one of the cast members who helped grant his wish 30 years ago!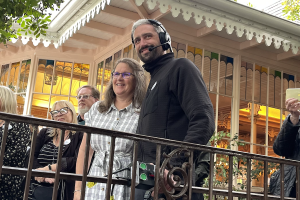 Colin is a stage technician for the resort's firework spectaculars, but on the day of the window dedication, his job was a little different: he had the honor of dropping the curtain for the big window reveal as the crowd chanted, "Make-A-Wish!" Making the moment even more special, Colin chose to share that honor with Lori, who helped make his own wish come true. The two now have another shared moment to cherish forever.
"I've been wanting to get involved with Make-A-Wish here at the resort ever since [my wish] and I think today spearheaded that," Colin said. In a true, full-circle moment, Colin reflected on his journey and credited his experience battling cancer and his Make-A-Wish memories with shaping him into the person he is today. He added that his wish at the resort made it possible to "turn hardship into a positive experience."
"Disneyland is a place that I continue to come back to," Colin said. "It's a safe place that holds a lot of special memories for me."
After the window dedication and seeing wish children who were visiting the resort as part of their wish, Colin added, "I'd like to say to all the Make-A-Wish kids out there to just have the most fun you possibly can every day. Make the most of every memory, the good ones, the hard ones, and the ones that can bring you so much joy."
To learn more about how Disney and Make-A-Wish create magical wishes together, visit wish.org/Disney.