Heroic Gesture at Disney Creates Lifelong Memories for Make-A-Wish® Family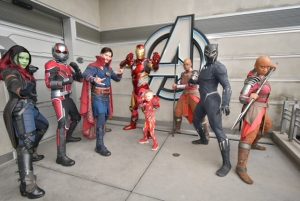 Charitable Giving
May 17, 2023
At the Disneyland Resort, anyone can become a Super Hero. But for 3-year-old Colton, it was a wish come true.
Colton and his family traveled from their home in Oregon on a Make-A-Wish visit to the Disneyland Resort. The Iron Man fan was dressed head to toe in his own Iron Man costume when he and his family walked into the Chamber of Commerce in Disney California Adventure park to ask if it might be possible for Colton to meet his idol at Avengers Campus. We learned that Colton was born without an immune system, and it was only due to a lifesaving bone marrow transplant that he was able to make the trip.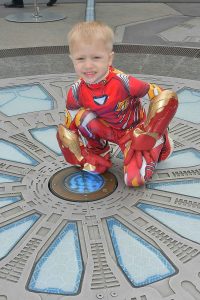 At the time, I was training two fellow cast members in Guest Relations, and I knew this was an opportunity to show them how we make Disney magic. I contacted our partners in Entertainment, who scheduled a time that afternoon for the family to arrive at Avengers Campus. I brought our trainees with me as we met the family, along with a Disney PhotoPass photographer who would capture the moment.
But when the time came, it wasn't Iron Man who walked out… it was Black Panther, accompanied by his trusty Dora Milaje! Gamora soon followed with Doctor Strange not far behind. Super Hero after Super Hero arrived, with Colton too stunned to speak. Finally, Iron Man walked out and was standing face to face with his smaller alter-ego. As the two exchanged poses, Colton's mom, Kayla, said through tears, "It's like looking into a mirror!"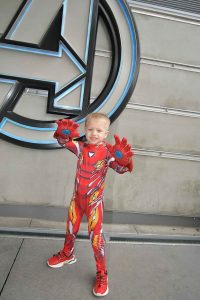 After the Super Heroes gathered for photos with Colton and his family, Colton was made an honorary Super Hero. "He truly believes with his entire heart and soul that he is now one of them because of the special time and attention they gave him," said Kayla. "It was just a moment for them, but it was truly life-changing for him."
Before everyone waved goodbye, the family shared that it was Colton's older sister, Khloe, who donated her bone marrow to save her brother's life. That's when Black Panther knelt down and told Khloe that she was the real Super Hero.
After all the tears and hugs, I turned to the cast members I was training and said, "This is what we can do here at the Disneyland Resort. This is a moment that will stay with Colton and his family forever."
And it will always stay with me, as well.
Did you know that Disney is the largest wish granter in the world for Make-A-Wish? Over the last 40+ years, more than 150,000 life-changing wishes have come true for children facing critical illnesses including theme park and resort vacations, cruises, shopping sprees, studio visits, talent meet-and-greets, sports-themed experiences, and more. 
In fact, Disneyland Resort was part of the first ever official wish that Make-A-Wish granted, beginning a shared journey of delivering joy to children and families facing serious illnesses for years to come. To learn more about how Disney and Make-A-Wish create magical wishes together, visit wish.org/Disney.
By: Nathaniel Pester, Guest Relations Trainer, Disneyland Resort
This story was originally published on the Disney Parks Cast Life Blog on May 17, 2023.