New 'Disney On Ice' Offering Delights Pediatric Patients Through Disney Movie Moments Program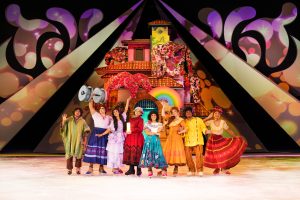 Charitable Giving
May 19, 2023
For generations, Disney has worked with children's hospitals around the world to enrich the lives of patients through the wonder of Disney stories. Early in 2023, the Company announced its continued support to children's hospitals and pediatric places of care around the globe as a part of Disney's $100 million global commitment from 2018. Through innovative programs such as mobile movie theaters, complimentary content access, additional character-themed hospital wear, special deliveries, and in-hospital installations, Disney is delivering joy to children and families when it's needed most through the power of storytelling.
Disney is committed to providing children with much-needed normalcy and helping them create cherished childhood memories by expanding access to beloved stories and broadening its mobile movie theater program, including adding more content to the Disney Movie Moments library. Thanks to the Disney Movie Moments program, patients and families at about 250 children's hospitals can gather for special screenings of newly-released films from Disney, Walt Disney Animation Studios, Pixar Animation Studios, Marvel Studios, Lucasfilm, and 20th Century Studios. Customized talent video greetings also surprise and delight patients at the beginning of select films.
Now, with the help of Feld Entertainment®, the magic of Disney on Ice presents Frozen & Encanto is available for the first time through the Disney Movie Moments program at participating children's hospitals. "Disney On Ice brings the magic of Disney right to hometowns around the world and now we are heartened to share Disney On Ice presents Frozen & Encanto with children undergoing medical treatment through this inspiring collaboration," said Juliette Feld Grossman, Chief Operating Officer of Feld Entertainment. "The amazing stories and journeys of Anna and Mirabel teach us that everyone has special gifts and we all can create our own magic through love, determination, and courage."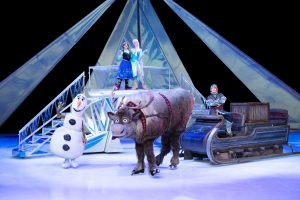 Disney on Ice presents Frozen & Encanto takes patients inside the magical adventures of Disney's Frozen and Encanto as they are brought to life like never before. Dazzling ice skating will transport them to Arendelle to be a part of Anna's adventure to find Elsa, with familiar friends including Olaf, Kristoff, and Sven tagging along as they race to bring back summer. In the second half of the show, the fantastical Madrigal family's Casita comes to life amidst the beautiful mountains of Colombia as kids join Mirabel on her journey to save her enchanted family home alongside her sisters, Isabela and Luisa. The show is hosted by Mickey Mouse and Minnie Mouse, who invite patients and their families to sing along to favorite songs and celebrate the power of love and courage.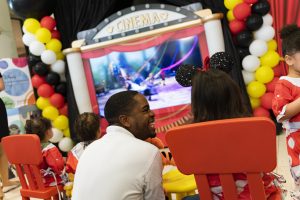 "Seeing the kids watch the show, their little faces lighting up, smiles showing all their teeth, their eyes with little sparkles in them. All that happiness in their face transmits to their little hearts and minds, which helps them feel better and thus heal faster," said Brigitte Huertas-Arias MD, Pediatric Hospitalist at AdventHealth Tampa.
From the strength of Luisa, to embracing imperfections like Isabela, to the determination of Mirabel, along with the power of family, Disney On Ice presents Frozen & Encanto encourages children to keep fighting through these uncertain times by asking themselves "What Else Can I Do?" and learning to "Let It Go" by never giving in to the "Surface Pressure."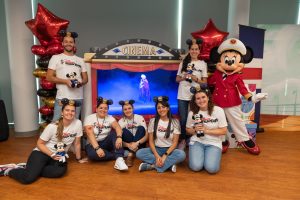 To celebrate this new offering, Walt Disney World Resort and Disney Cruise Line hosted special screening events at two children's hospitals in Florida. Walt Disney World cast members including Walt Disney World Ambassador Raevon Redding, along with their pal Mickey Mouse, visited AdventHealth for Children, a part of AdventHealth Tampa, to celebrate the first of six mobile movie theater donations by Disney to hospitals and nonprofit organizations across central and south Florida. In Fort Lauderdale, Disney Cruise Line cast and crew were joined by Captain Minnie Mouse at the Salah Foundation Children's Hospital at Broward Health for the first wave of deliveries the cruise line will be making to children's hospitals in several port communities across the country.
Thanks to efforts of dedicated collaborators like Feld Entertainment, who facilitated the filming of Disney on Ice presents Frozen & Encanto, Disney is able to bring the magical world of Disney on Ice to children's hospitals worldwide and add to the growing list of Disney content available for these children and their families to enjoy together. Feld Entertainment is the worldwide leader in producing and presenting live touring family entertainment experiences, bringing joy to millions of families in more than 75 countries and six continents.