'Star Wars': Force for Change Announces Online Charity Auction to Support Kids in Need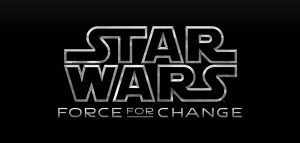 Charitable Giving
May 4, 2015
As Star Wars fans around the world celebrate May the 4th today, Star Wars: Force For Change, a charitable initiative from Disney and Lucasfilm, announced its latest campaign, teaming with eBay Giving Works to auction off a selection of plaster stormtrooper helmet replicas uniquely decorated by artists around the world.
The 10-day auction will kick off today and give bidders the chance to compete for these one-of-a-kind stormtrooper helmets at a starting price of $5.04. Lucasfilm has donated the helmets to U.S. Fund for UNICEF, which will receive 100 percent of the final auction sales price for each helmet and will direct these funds to support UNICEF Kid Power, an innovative new program that uses the world's first Wearable-For-Good to get kids active and provide lifesaving food packets to children in need around the globe.
This auction comes on the heels of a very successful Force For Change interactive event at Star Wars Celebration Anaheim. During a globally-broadcast panel discussion about the new Star Wars: The Force Awakens movie to be released on December 18, 2015, director J.J. Abrams and producer Kathleen Kennedy discussed their latest collaboration with the humanitarian children's organization in support of UNICEF Kid Power and why the relationship is so important to Star Wars: Force For Change.
The Star Wars movies have always inspired a desire in people to help others, and we are extremely grateful that our fan community has been so generous with their time and efforts on behalf of the many charitable causes they support, Kathleen Kennedy, president, Lucasfilm Ltd., says. Our hope is that Force For Change will harness that spirit of giving into a worldwide movement that uses the power and reach of Star Wars to help those around the world in need.
To participate in the eBay stormtrooper Helmet Auction, go to Ebay.com/ForceForChange. And head to StarWars.com/ForceForChange for more opportunities to participate in Star Wars: Force For Change throughout 2015.