The Walt Disney Company, 'Good Morning America', and Make-A-Wish® Team Up to Celebrate the Power of Wishes for Disney's 100th Anniversary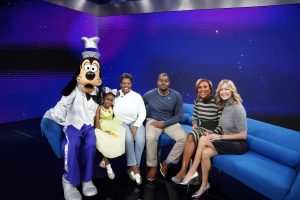 Charitable Giving
October 17, 2023
For over a century, Disney has created a legacy of making wishes come true, whether it is on a star, from a genie, in a wishing well, or through collaborations with wish-granting organizations like Make-A-Wish. ABC News' Good Morning America marked The Walt Disney Company's 100th anniversary by teaming up with Make-A-Wish to celebrate 100 transformational wishes on the broadcast. The monthslong effort kicked off Monday, October 16, 2023 with a surprise for 8-year-old Madison, who battled cancer over the past year.
Goofy joined Madison and her family at the GMA studios in New York City to receive the very special message. Madison completed her medical treatment in early August 2022 and wished to have a magical family vacation at Walt Disney World Resort. Madison received a message from her favorite princess, Tiana, sharing the news that her wish is about to come true, including gifts from shopDisney to make her trip extra special.
"For 100 years, Disney has been a force of good throughout the world—and what better way to celebrate this incredible milestone than through our partnership with Make-A-Wish, where we have fulfilled more than 150,000 wishes over the last several decades," said Lisa Haines, SVP, Corporate Social Responsibility, The Walt Disney Company.
GMA's "The Power of Wishes" campaign will see 100 wishes fulfilled and shared on America's most-watched morning newscast through December 2023. The wishes will also be highlighted across GMA's digital and social platforms, as well across local ABC stations.
"So many Disney characters were part of our viewers' lives growing up," said Simone Swink, Executive Producer of GMA. "I hope this morning's celebration—and the wishes we are fulfilling—are all a part of making new memories with the families that watch GMA and love Disney. Every morning on GMA we have the opportunity to share and enrich people's lives in the ways that matter most to our viewers. Using our platform to inform and for the greater good is our top priority—a great way to celebrate Disney's 100th!"
In 1981, Disney granted the first official wish to Frank "Bopsy" Salazar at the Disneyland Resort. Now, over 40 years later, Disney has grown this relationship, granting its 150,000th wish this year to 16-year-old Mikayla who began her battle fighting cancer three years ago.
Along with granting this landmark wish, Disney has gone bigger to create magical experiences in 2023 to support Make-A-Wish, including launching the Wish Together campaign, Disney Create 100, dedicated windows at the Disneyland Resort, custom Florida license plates, the 'Once Upon A Wish Party,' and more. Many Disney cast members are also wish-granting volunteers, parents of wish kids, or wish alumni themselves.
Disney is committed to delivering joy and comfort to children facing serious illness and to the people who care for them by providing transformative experiences including theme park and resort vacations, cruises, shopping sprees, studio visits, talent meet-and-greets, sports-themed experiences, and more. Every wish granted allows kids to feel like kids while creating special memories with their families. These moments of normalcy inspire hope for a brighter future and the majority of kids go on to beat their illness and live fulfilling lives, often crediting their wish for giving them the physical and emotional strength they needed to fight.
To learn more about how Disney and Make-A-Wish create magic together, visit wish.org/disney.