Disney Entertainment Television's Directing Program Expands to Unscripted TV – Meet Our Two Selected Directors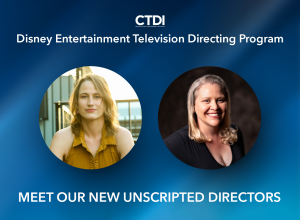 Diversity & Inclusion
October 11, 2023
Big news for the Disney Entertainment Television Directing Program: the program is expanding to include emerging directors in the world of unscripted television!
This first-of-its-kind program offers selected directors opportunities for mentorship, shadowing, and professional development in the genre, as well as the chance to direct a segment on one of ABC's most popular unscripted series.
Earlier in 2023, the Disney Entertainment Television (DET) Creative Talent Development & Inclusion (CTDI) team partnered with ABC Unscripted and Alternative Programming to scout emerging unscripted directors. Six finalists were selected for intensive professional development workshops, meetings, and mentorship with Disney directors, producers, and industry executives, including Executive Vice President of Unscripted and Alternative Entertainment at Walt Disney Television, Rob Mills. "All six finalists were exceptional and have a breadth of experience that would benefit any show," said Mills.
From this incredible pool of talent, CTDI and the Unscripted Programming team selected two aspiring directors pursuing careers in the genre: Rachel Shimko and Kerry Clemens.
Shimko is an experienced assistant director who has built her career working closely with directors on unscripted series such as, "Hell's Kitchen" and "The Great American Food Truck Race." Shimko has been chosen to shadow Emmy®-nominated unscripted and daytime director Ken Fuchs (known for his work on "The Bachelor," "Family Feud," and "Shark Tank") and direct a segment for the upcoming season of "The Bachelor."
As an Emmy-winning camera utility worker, camera operator, field producer, photographer, and former actor, Clemens' experience in unscripted production includes live shows and events, talk shows, and game shows including "America's Got Talent," "Hairspray Live!," "The Talk," "American Idol," and "The Academy Awards." Clemens will be shadowing alongside double-BAFTA-winning director Phil Heyes, lead director for "Dancing with the Stars," and directing a segment on the live dance competition show.
Looking ahead, CTDI hopes to bring the unscripted directing program to more Disney brands. "Our collaboration with ABC Unscripted Television to expand the Directing Program is already creating exciting opportunities for emerging directors to grow and excel in this genre," said Tim McNeal, Senior Vice President, CTDI. "We have ambitious plans to extend our program's reach across more Disney brands, further enriching the diversity and creativity of our storytelling."
The DET Directing Program has been a game-changer since its debut in 2011. Alumni such as Regina King ("Insecure"), Ryan Coogler ("Black Panther"), Pete Chatmon ("black-ish"), and Jude Weng ("grown-ish") are just a few of the directors who have participated in the program. Since 2021, the program has guaranteed each selected director the opportunity to direct an episode of a Disney scripted series. 2022-2023 participants directed episodes of "The Chi," "The Rookie," "The Good Doctor," "Single Drunk Female," "Villains of Valley View," "BUNK'D," and "General Hospital."