Disney's Supplier Diversity Team Honored for Inclusive Approach to Business Sourcing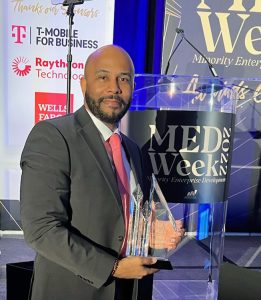 Diversity & Inclusion
September 18, 2022
Recognizing the emphasis The Walt Disney Company places on inclusive sourcing for suppliers and business partners, the Minority Business Development Agency (MBDA) recently honored the Company with the Distinguished Supplier Diversity Award. The award, which was presented to Disney's Supplier Diversity team at the 2022 National Minority Enterprise Development Week Conference as part of the group's "Champions of Minority Business Development" category, shines a light on business practices that have a significant impact on the growth and development of minority-owned businesses.
An integral part of Disney's approach to sourcing, the Company's supplier diversity strategy centers on building relationships with an ever-growing array of minority business owners and diverse entrepreneurs. In 2021, Disney spent approximately $450 million with certified diverse-owned vendors. But the Company set its sights on an ambitious goal for dramatically increasing this number, committing to increasing diverse supplier spend to at least $1 billion annually by 2024.
"At Disney, we strive to reflect the diversity of our communities and the world around us in all we do, including our business partnerships and sourcing," said Ralph Sagaille, Director, Supplier Diversity and Sustainability for The Walt Disney Company. "Across all of our brands and lines of business, some needs are met by large, global companies, while we leverage smaller, nimble vendors at the local or regional levels to meet others. In every instance, we're looking for diverse suppliers who bring creative solutions and quality goods and services to our teams."
An agency of the U.S. Department of Commerce, MBDA is dedicated to the growth and global competitiveness of minority business enterprises, including companies owned and operated by African Americans, Asian Americans, Hasidic Jews, Hispanic Americans, Native Americans, and Pacific Islanders. Disney's Supplier Diversity team works with business organizations and certifying agencies like these at the national, regional, and local level to help identify, foster relationships with, and mentor diverse entrepreneurs. In fact, the team was nominated for this MBDA award by Kimberly Rosier Jean-Louis, director of the Orlando MBDA Business Center.