Behind the Scenes: Sustainable Production on Y: The Last Man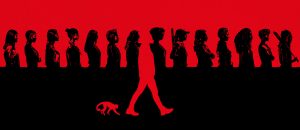 Environment
March 22, 2022
Y: The Last Man recently aired its season finale episode on FX on Hulu. The drama, based on the acclaimed DC Comics' series, follows survivors in a post-apocalyptic world as they struggle with their efforts to restore what was lost and the opportunity to build something better. Behind the scenes of the Toronto-based shoot, the show's crew also worked hard to build a better kind of production.
Take a look at this behind the scenes video highlighting the sustainability efforts on set.

Thanks to the efforts of a dedicated Sustainability department and the collaboration of departments across the entire production, the 10 episode show was able to reduce its environmental impacts by diverting most of its waste from landfill, donating over 6,000 meals to local communities, and replacing many of its diesel generators with emission-free battery electric generators, a particular challenge on a show with half of its shoot days on location, often in remote areas.
In order to maximize waste diversion, Y was the first production in the Toronto area to collect compostable waste from location. Bins for compost, recycling, landfill, and personal protective equipment (PPE) waste streams were available at each location, at basecamp, and in offices and on stages. The waste vendor also helped the show source compostable foodware, since reusable tableware was not an option due to COVID restrictions. As a result, the crew could put almost their entire lunch bags in the compost bin. At wrap, some of that compost was given to the crew as a limited-edition gift!
The production also worked with Second Harvest, Canada's largest food rescue charity, to ensure that over 6,000 meals went to people who needed it, rather than the landfill. Using the Second Harvest Food Rescue App, the Sustainability department coordinated rescue of surplus food from catering, craft, props, and set dec and redistributed it to local non-profit organizations. Y was one of the first productions in Canada to pilot the use of the Second Harvest Food Rescue App.
Other efforts to minimize waste included:
Use of reusable water bottles and aluminum canned water, instead of single-use plastic water bottles
Collection of personal protective equipment (PPE) waste for recycling, including training set nurses on how to dispose of PPE waste according to the production's system
Sourcing of environmentally-friendly, refillable personal hand sanitizer sprays
Sourcing of costumes from secondhand retailers whenever possible. Costumes – and even hangers and baskets – were donated at the end of use to continue their life.
In addition to waste, Y tackled energy use as much as possible to reduce associated greenhouse gas emissions. Powering the production posed a difficult challenge for two reasons: the stages had limited access to grid power and many shoot days were in remote locations, which meant diesel generators were required for almost all energy needs. In order to reduce reliance on diesel, the production used trailers with solar panels to supplement generator power, and became the first production in Toronto to utilize battery units to power equipment and provide auxiliary power. The mobile battery units were used to power video village, the craft truck, parts of basecamp, and other locations around the sets, and had the added benefit of running nearly silently, a feature which the sound department particularly enjoyed.
Efforts on Y: The Last Man set a high bar for sustainability on future productions in the Toronto area. Across Disney, we are continuing to work to ensure all of our productions are being created in an environmentally responsible manner and to help the entire entertainment industry make progress in addressing our collective impacts.