Disney and Pixar's "Turning Red" and Red Panda Network Join Forces to Protect Endangered Wild Red Pandas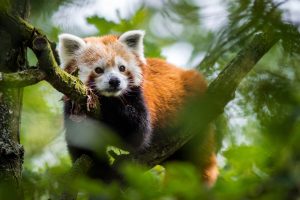 Environment
March 11, 2022
Growing up is a beast. In Disney and Pixar's Turning Red, young actress Rosalie Chiang lends her voice to Mei Lee, a 13-year-old who suddenly "poofs" into a giant red panda when she gets too excited (which is practically ALWAYS).
And since growing up is also tough for red pandas in the wild, to celebrate the release of the film, Disney is supporting community efforts to protect wild red pandas and their habitats in Western Nepal through a Disney Conservation Fund grant to Red Panda Network.
"Turning Red is the perfect opportunity to shine a light on Red Panda Network's important work and inspire fans to learn about a real-life endangered species that needs our help, while carrying on Disney's long legacy of supporting conservation efforts globally through over $120 million invested to date by our Disney Conservation Fund," said Kelly Camunez, director of communications for Disney Studios Content.
Creating a Collaborative Program for People and Wildlife
The global red panda population has declined by 50 percent in 20 years and there may be as few as 2,500 of this endangered species remaining in the wild. Red pandas depend on Eastern Himalayan broadleaf forests for their survival – and so do the people who share their home, largely supporting their families through farming and livestock herding.
Disney Conservation Fund support will help Red Panda Network work with communities in Western Nepal to lead an integrated conservation program to reduce habitat loss for red pandas and other wildlife, encourage anti-poaching efforts and grow harmony between communities and wildlife to support the long-term survival of red pandas.
Over the next two years our collaboration will help to:
Monitor wild red pandas and support anti-poaching and habitat protection efforts in 20 community forests
Develop conservation education materials for local schools
Support communities through sustainable livelihood programs that promote forest-friendly practices
Raise awareness of red panda conservation through engaging experiences and inspiring storytelling
Through these efforts, the Red Panda Network and Disney aim to support communities while protecting wild red pandas for years to come.
Protecting the Magic of Nature Together
You can learn more about Red Panda Network efforts by visiting their site here and be sure to stream Disney and Pixar's Turning Red, available Friday, March 11, only on Disney+.