Disney Conservation Fund Helps Sea Turtle Conservancy and Communities Protect Florida's Sea Turtles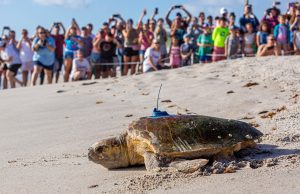 Environment
April 27, 2023
Founded in 1959 by sea turtle and conservation expert Archie Carr, the Sea Turtle Conservancy has spent decades protecting sea turtles from an array of threats jeopardizing their entire existence ranging from marine pollution to artificial lighting to commercial fishing.
Headquartered in Florida, the organization works "directly with sea turtles in some of the most important places for their nesting and their foraging sites," explains David Godfrey, Sea Turtle Conservancy's Executive Director.
Each year, the Sea Turtle Conservancy hosts a 'Tour de Turtles' event at the Archie Carr National Wildlife Refuge as part of its education efforts. By outfitting sea turtles with satellite transmitters and monitoring through satellite telemetry, researchers and the public are able to plot and learn from their migration patterns.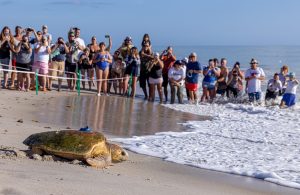 "This idea of a race among the turtles came to us one day. It was around the time of the Tour de France and we thought, well, it can be the Tour de Turtles. A race to see which one travels the furthest," Godfrey explains.
Every turtle tracked as part of the race is assigned a corresponding cause so that as members of the general public cheer on their favorite turtles online, they can also learn more about pressing issues affecting the animals like climate change and plastic pollution.
"This incredible education and research program reaches millions of people around the world every year. That has been sustained through Disney's support," Godfrey says of the impact of support from the Disney Conservation Fund, as well as working with collaborators from Disney's Animals, Science and Environment team who have dedicated 20 years to sea turtle conservation efforts at Disney's Vero Beach Resort, a Disney Vacation Club Resort.
With this support from Disney and the public, the Sea Turtle Conservancy has been able to make significant strides in increasing sea turtle populations and mitigating the threats against them.
"The turtles are doing quite well. Loggerhead turtles are doing very well in the refuge," Godfrey says. "New records are set every few years in the number of nests. And a very important lesson was learned and that is, people can coexist with sea turtles on a really important nesting beach if people buy in and behave in ways that are responsible and everybody understands they have a role to play in the stewardship of this resource."
To learn more about the Disney Conservation Fund, visit: www.disney.com/conservation.
Note: All sea turtle research activities conducted under MTP-22-133A and MTP-071.