Disney Honored for Environmental Storytelling: Television and Studio Groups Lauded for Efforts in Storytelling and Sustainable Production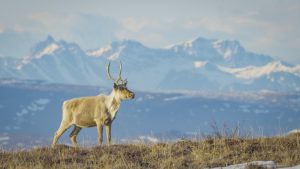 Environment
December 2, 2022
The 2022 Environmental Media Awards (EMAs) celebrated TV shows and films that have harnessed the power of storytelling to encourage action to create a more sustainable future, and Disney shows and productions took several of the top honors.
National Geographic's America the Beautiful: Brave New World won an Environmental Media Award in the Documentary Series category. This documentary follows a growing band of wildlife heroes across North America who are fighting to preserve our most iconic animals and wildest places. Whether the battle is to rewild the northern prairies, save our rarest big cat, or restore an underwater forest, these champions are everyday people of all ages and from all walks of life, sharing one thing in common: They care enough to make a difference.
ABC's Abbott Elementary also took home the Paul Junger Witt Comedy Award for the episode "Art Teacher." In this episode, Jacob and Barbara band together to start a school garden with the goal of providing fresh produce for school lunches.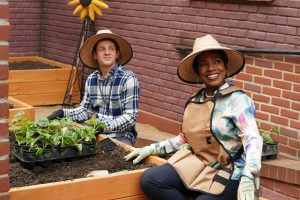 Image Courtesy of ABC's Abbott Elementary
Several other Disney titles were named finalists for the 2022 EMAs, including Hulu's The Next Thing You Eat: Sushi, National Geographic's Biggest Little Farm: The Return, 20th Television Animation's American Dad "Dr. Sunderson's SunSuckers," and Disney Branded Television's Mickey Mouse Funhouse "Crystal Clear Waters."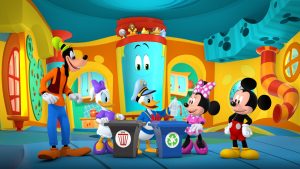 Mickey Mouse Funhouse "Crystal Clear Waters"
The Environmental Media Awards are presented by the Environmental Media Association (EMA), an organization dedicated to promoting environmental action and innovation through storytelling. The full list of nominees and winners is available at: https://www.green4ema.org/ema-awards.
In addition to awarding films and television shows with environmental storylines, the EMA also recognizes productions for their environmental efforts behind the scenes with the EMA Green Seal, a program honoring excellence in sustainable production.
EMA Green Seals are awarded to productions that meet or exceed a set of sustainability criteria on a scale of 200 points. Any production that earns at least 75 points is awarded a Green Seal, and productions that achieve a score of 125 or more receive a Gold Seal.
This year, Disney productions were awarded a total of 96 Green Seals, and of these, 38 achieved Gold Seal status. The full list of Disney recipients can be found below.
For nearly a century, Disney has created stories that celebrate the wonders of the world we all share. The awards from the Environmental Media Association recognize the ways that we are building on our legacy of storytelling to help write the next chapter for our planet by lowering the impact of our operations, leading in wildlife care and conservation, and telling stories that inspire connection with our planet and all who call it home. We call these collective efforts Disney Planet Possible – tangible actions we're taking to put possibility into practice and inspire optimism for a brighter, more sustainable future. Learn more about Disney's efforts at https://impact.disney.com/environment/.
Disney EMA Green Seal Winners:
| | |
| --- | --- |
| Gold Seals: | Green Seals: |
| 9-1-1 | 9-1-1: Lonestar |
| Andor | American Born Chinese |
| Ant-Man and The Wasp: Quantumania | American Horror Stories |
| Avatar: The Way of Water | American Horror Story: Double Feature |
| Better Things | Atlanta |
| Chang Can Dunk | Big Leap |
| Darby and the Dead | Big Shot |
| Great Expectations | Big Sky |
| Hawkeye | Black Panther: Wakanda Forever |
| High School Musical: The Musical: The Series | Black-ish |
| It's Always Sunny in Philadelphia | Boston Strangler |
| Mayans M.C. | Chevalier |
| Motherland | Crater |
| Ms. Marvel | Crossover |
| Not Okay | Doogie Kameāloha, M.D. |
| Only Murders in the Building | Fire Island |
| Peter Pan & Wendy | Flamin' Hot |
| Prom Pact | Fleishman is in Trouble |
| Sausalito | Good Trouble |
| Secret Invasion | Grown-ish |
| SheHulk: Attorney at Law | Haunted Mansion |
| Shōgun | History of the World, Part II |
| Snow White | Hocus Pocus 2 |
| The Clauses | How I Met Your Father |
| The Dropout | Kindred |
| The Mandalorian | Kingswood |
| The Marvels | Launchpad Shorts: Beautiful FL |
| The Mysterious Benedict Society | Launchpad Shorts: Black Belts |
| The Patient | Launchpad Shorts: Maxine |
| The Resident | Launchpad Shorts: Project CC |
| The Villains of Valley View | Launchpad Shorts: The Ghost |
| This is Us | Launchpad Shorts: The Roof |
| Under the Banner of Heaven | Love, Victor |
| Untitled Sisters Project | Maggie |
| White Men Can't Jump | Mike |
| Willow | Moon Knight |
| World's Best | No One Will Save You |
| Young Woman and The Sea | Ordinary Joe |
| | Our Kind of People |
| | Pistol |
| | Prey |
| | Promised Land |
| | Reboot |
| | Reservations Dogs |
| | Rosaline |
| | Snowfall |
| | Tell Me lies |
| | The Bear |
| | The Boogeyman |
| | The Chi |
| | The Menu |
| | The Mighty Ducks: Game Changers |
| | The Princess |
| | The Wonder Years |
| | Ultra Violet & Black Scorpion |
| | Welcome To Chippendales |
| | What We Do in the Shadows |
| | Wu- Tang: An American Saga |
Photo credit, top: National Geographic for Disney+