Sustainability on Set: Behind the Scenes with Disney Original Movie "Prom Pact"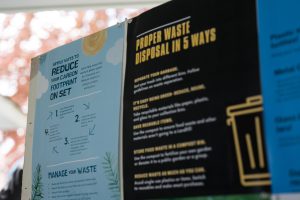 Prom Pact, a Disney Original movie from Disney Branded Television, is now filming in Vancouver. Lead character Mandy, played by Peyton Elizabeth Lee, has a personal passion for sustainability that is reflected in her costuming and props – and in the production that is bringing her story to life.
Line Producer Warren Carr and Sustainability Steward Noah Rogers have championed sustainability from the earliest moments of production prep for Prom Pact. "Production managers look at their budgets and may not have a department that says sustainability. I say, put one in!" Warren shares. Creating a sustainability department, he says, can help put sustainability at the heart of important production decisions from the very beginning.
With the help of other departments from transportation and locations to construction and catering, Warren and Noah sought ways to reduce emissions, minimize waste, and engage the entire crew to create a greener production. By the time the cast and crew gathered for their first day on set, the production already had several sustainable practices in place, including electric vehicles for crew shuttles, refillable water stations (which have already served the equivalent of more than 25,000 single-use plastic bottles of water!), and other behind-the-scenes strategies for reducing the production's environmental impact.
On the Prom Pact set, sustainability is a team effort. Signage across the set builds awareness of the small yet powerful actions anyone can take, such as composting leftovers from lunch or turning off appliances when not in use. Noah partnered with each of the production's departments on tailored sustainability practices that match their needs and priorities and shared a "carbon calculator" with crew members so they could learn more about their day-to-day impact. "People have really bought into it," Noah says. "People share comments, concerns, and ideas, too…more and more people have sustainability in the forefront of their mind."
Prom Pact's comprehensive waste reduction plan, created in collaboration with the construction and locations departments and the production's waste management vendors, focuses on both the production office and the set. While on location in Vancouver, the production provides mobile waste management centers with compost and recycling options. In the office, the production selected a waste vendor that could also process materials such as lightbulbs, electronics, and metals, to divert these items away from landfills and give them new life.
When it comes to feeding the crew, Noah worked with the catering staff to prioritize environmentally responsible options for preparing and serving meals. The production prepares estimates of how many cast and crew will be on set each day for the catering team, so they can meal plan more accurately and with less waste. Their daily menus feature sustainable choices such as Ocean Wise-certified seafood and plant-based options. And in addition to limiting single-use plastics, the production has sourced compostable food ware for use on set and provided reusable cutlery kits to office staff.
With the entire movie filming on location, powering the production while reducing emissions requires creativity and care from everyone on set. The production ties into the grid where possible to reduce the reliance on generators and has found opportunities to use electric vehicles and emission-free battery electric generators, rather than gas- or diesel-powered alternatives. For example, the team uses mobile battery units to power the catering truck during off hours and added an update to their production report on generator use, creating more awareness for crew members making important decisions about how to meet the energy needs of the production.
With the support of the entire cast and crew of Prom Pact, Warren and Noah are helping the production make environmentally responsible choices on set each day. They both say that this is just the beginning – "this is the baseline and something we can build on," Warren says, noting that there is more to learn and more ways for our entire industry to help productions become greener and more sustainable.
Sustainability teams like Prom Pact's are part of Disney's vision to make a healthier, happier planet possible for all.