Disney Celebrates Halfway to Halloween with Florida Theater Students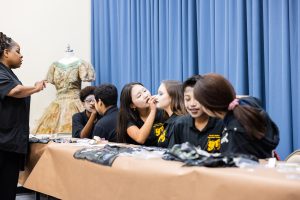 Diversity & Inclusion
April 17, 2023
As part of Disney's continued commitment to students through Disney Future Storytellers, Disney invited Neptune Middle School's theater program for a hauntingly great day with some of our costuming and cosmetology cast members. These talented eighth graders experienced a bit of the behind-the-scenes magic that brings some of the spooks and special events to life across our resort during the Halloween season.
"We know experiences like this with our cast have the power to deeply impact and change lives," said Tajiana Ancora-Brown, Director of External Affairs at Walt Disney World Resort. "These students are still dreaming up their futures, and if we help them identify passions and interests in fields they may one day pursue, we've done our job."
Acting as "Ghost Hosts" for the day, cast members first took students on a tour of one of Disney's costuming production spaces so they could see the work that goes into taking a designer's vision from the page to the stage.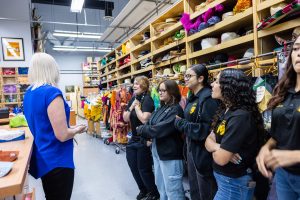 Inspired to do some production of their own, students tried their hands at crafting a distressed scarf that you might see the Haunted Mansion's caretaker wearing in the attraction at Magic Kingdom Park. Costuming cast members were there every step of the way to share a few of their personal tips, tricks, and techniques.
"I loved seeing their excitement and listening to all the questions they asked," said Costume Assistant, Melissa. "We don't get to show people what we do very often since we're backstage, and it was special to let the kids see that and know this is a career path they could take."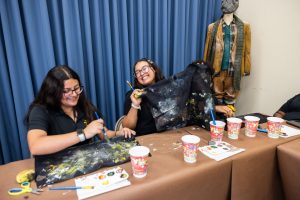 These theater students knew all too well that after costumes, it was time for hair and makeup. Cosmetology cast members guided the kids through a hands-on tutorial, showing them how to apply the ghostly makeup some of Disney's parade performers don during Mickey's Not So Scary Halloween Party and other special events. They even paired up and took turns applying what they learned to each other – as you can see, each student looked like they could be the 1,000th Happy Haunt!
Our cast felt just as much Halloween magic as the students. They loved sharing their expertise and learnings – and even feeling their own childlike wonder from the students' contagious energy and excitement.
"I loved seeing their faces when they got to experience what we do behind-the-scenes," said Cosmetology Coordinator, Dai'Shaugh. "Seeing their enthusiasm and all the things they liked made me miss those early days … to be a kid again."
At Disney, a magical moment is always being planned. Just as the students thought they'd be getting on the bus to go back to school, they were told their bus would be taking them to Magic Kingdom so they could ride the Haunted Mansion and see some of what they learned in action.
Everyone – students and cast alike – left feeling a little more energized, empowered, passionate, and excited for Halloween! To learn more about other ways Disney invests in diverse dreamers – like the recently announced $100,000 grant to support STEM education in Orange County Public Schools – visit DisneyWorldGivesBack.com.