Disney Kicks Off Collaboration with ChickTech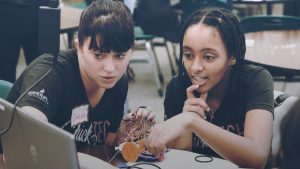 Diversity & Inclusion
November 4, 2022
Disney announced support of ChickTech's 2022-2023 High School program — a free, year-long series of technology workshops, mentoring, and internship connections for 8th-12th grade students of underrepresented genders. ChickTech: High School exists to break down the barriers preventing historically marginalized youth from thriving in Science, Technology, Engineering, and Math (STEM).
Disney's support will include grant funding for the ChickTech: High School program; mentorship, networking, and event opportunities; and the development of a technical workshop for ChickTech students and beyond with Disney technologists who bring Disney stories to audiences around the world.
The 2022-2023 High School program launched at a virtual kickoff event on October 29, 2022, for students from across the country to build their excitement and confidence in starting their technology journeys. During the event, students learned about the program, connected with peers, and heard from inspiring speakers from the technology community, including Disney's own Kaki Navarre, a VP of Software Engineering on the Disney Media & Entertainment Distribution (DMED) division's Technology team.
"You all are the future of this industry," said Kaki, "the ones that will create and innovate to address the challenges we face and turn them into opportunities for progress."
Disney's collaboration with ChickTech is part of Disney Future Storytellers, an initiative intended to empower the next generation of diverse storytellers and innovators. Within Disney's DMED division, which includes the technology infrastructure that underpins the Company's streaming services and TV networks, the focus is on driving access to careers in entertainment and technology through STEM education, mentorships, and technical skill-building.
DMED is home to thousands of industry-leading technologists – from Product Managers, who help build the products consumers use daily to stream, explore, and learn, to Engineers, who are the brains behind some of the most beloved Disney shows and movies of all time. Disney wants young people of all backgrounds to see themselves not only in a Disney character, but also in the technology experts bringing Disney content to life.
In July 2022, Disney also announced its support of the Propel Center, a first-of-its-kind education hub for Historically Black Colleges and Universities (HBCUs). Through this collaboration, Disney will work with HBCU faculty and industry leaders to create curricula that prepare students for careers in technology and entertainment.
Learn more about how Disney is helping today's youth dream about their future, build their talents and skills, and become who they imagine they can be by visiting the Disney Future Storytellers website.