We bring joy, comfort, and peace of mind to our communities and inspire hope, especially for children.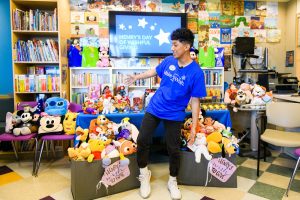 Our Commitment to Community
Through financial contributions, collaborations with nonprofit organizations, in-kind donations, and employee volunteerism, Disney brings positive, lasting change to communities around the world.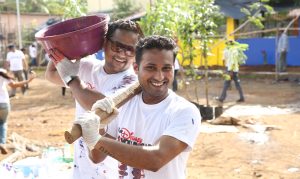 Charitable Giving
We focus our charitable giving on efforts that help create a world of belonging, a world in balance and a world of hope. To that end, we direct our philanthropy towards increasing access and opportunity for the next generation of storytellers, protecting our planet for people and wildlife; and bringing comfort and joy to families with children facing serious illness, as well as to our communities in times of need. Through all we do, our intention is to direct more than 50% of our annual charitable giving to programs that support underrepresented communities.
150M+
directed to underrepresented communities in FY21*
~100
global wish-granting organizations working with Disney to deliver wishes
$294M
total Charitable Giving in FY21
145K
magical wishes granted globally with Make-A-Wish® since 1980
12M+
employee volunteer hours since 1983
* Charitable giving that we report includes grants specifically directed towards historically underrepresented and protected communities, including the Asian Americans, Pacific Islanders, Blacks, Hispanics, Native Americans/Indigenous, and LGBTQ+ community, People with Disabilities, Veterans and Women. We also include grants to organizations where a percentage of their services reach underrepresented and protected communities. If the organization spends a majority of their efforts on these communities, we count the entire grant and if the organization does not spend a majority, we count a proration of the grant. For grants to these two types of organizations, we rely on their self-reported percentages regarding communities served. On a sample basis, we validate the percentages that are reported.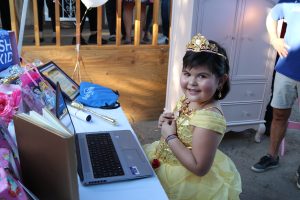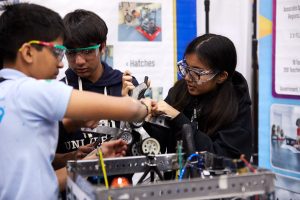 Investments in the Next Generation
Disney is committed to providing inspiration and opportunity to the next generation of storytellers and innovators. We are investing in initiatives that bring foundational arts, STEM, journalism, and sports to youth, and scholarships and training programs to young adults.
Explore Next Generation Investments
Disney Conservation Fund
Disney Conservation Fund is committed to saving wildlife and building a global community inspired to protect the magic of nature together. Since 1995, the Disney Conservation Fund has directed more than $120 million to support nonprofit organizations working with communities to save wildlife, inspire action and protect the planet.
Explore Conservation
More Stories of Hope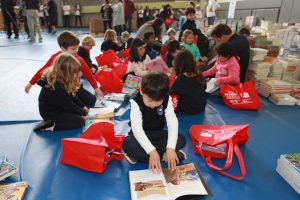 Inspiring Young Readers
Since 2000, Disney has donated more than 87 million books to First Book, a nonprofit organization providing free and affordable new books to educators who serve kids in need, helping to foster a love of reading and inspiring children's curiosity.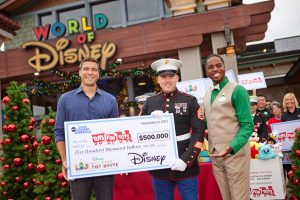 Disney Ultimate Toy Drive
For more than 70 years, The Walt Disney Company has supported the Marine Toys for Tots program to bring comfort, happiness and inspiration to children and families in need during the holiday season. In 2021, the Company continued that tradition with a $500,000 donation to Toys for Tots to kick off the Disney Ultimate Toy Drive.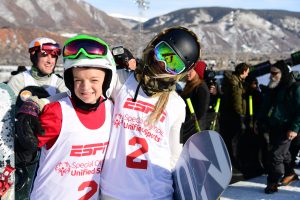 Special Olympics
Since 2013, ESPN has been a Global Presenting Sponsor of Special Olympics Unified Sports® which is dedicated to promoting social inclusion by bringing people with and without intellectual disabilities together to play, train and compete.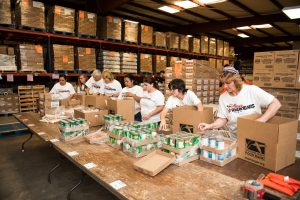 Providing Nutritious Meals
Disney has a history of support for Feeding America's produce operations program funding select Feeding America network food banks nationwide. Additional support has included Disney VoluntEARS food packing activation during Hunger Action Month and year-round, as well as Disney Parks and Resorts' food rescue program providing more than 1.2 million meals* annually to Feeding America for kids and families facing hunger.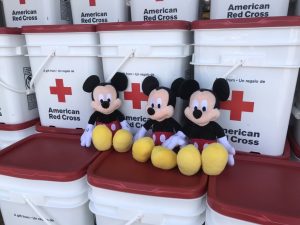 Disaster Response
Disney is proud to support natural disaster response and recovery efforts globally. Working closely with relief agencies including the American Red Cross, UNICEF and Good360, Disney provides essential contributions of funds and products in times of great tragedy. Additionally, the Disney Employee Relief Fund provides short-term monetary assistance to employees and cast members experiencing hardships due to disasters affecting their primary residence.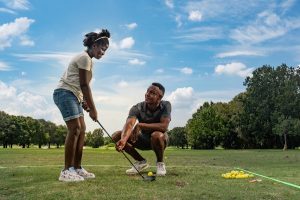 Empowerment Through Sports
ESPN believes all kids should have access to play and supports programs that reach kids living in communities where sports access is limited or nonexistent. First Tee is a youth organization that enables kids to build the strength of character that empowers them through a lifetime of new challenges. In partnership with the PGA TOUR, ESPN teamed up with First Tee to build a robust, year-round program in the Los Angeles area that will be launching in spring of 2022 to ensure that underserved and underrepresented youth have access to the game of golf and character-building programs.
* According to the USDA, 1.2 lbs of food is equivalent to one meal.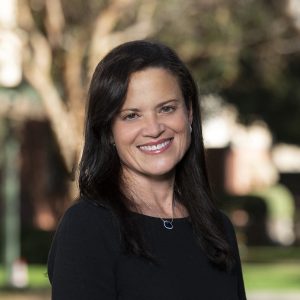 "Bringing joy, comfort and optimism to people and communities around the world - and especially children and families - is core to who we are as a company."
Jennifer Cohen
EVP, Corporate Social Responsibility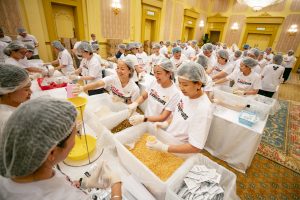 Volunteering
Volunteerism is a central and enduring part of our company's culture and the cornerstone of our community engagement efforts. By donating their time and talents, our Disney VoluntEARS provide comfort, happiness, and inspiration to kids and families around the world. We also inspire family volunteerism through our Disney Family Volunteering Reward program.
Explore Volunteering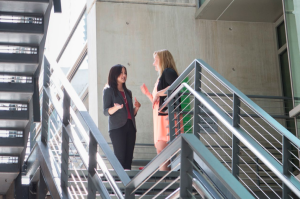 Employee Programs
Disney employees and cast members have a wonderful tradition of giving back. To recognize these efforts, we match financial donations to charitable organizations around the world through Disney Employee Matching Gifts.
We also provide an opportunity for employees to turn their hours of volunteer service into a financial donation through Disney VoluntEARS Grants.
Over the last decade, Disney has matched ~$95 million in employees' and cast members' personal donations of time and money.
Charitable Giving Resources
For organizations seeking financial or in-kind support, please review the Charitable Giving Guidelines.