Sundance Institute and The Walt Disney Studios Launch Project Advancement and Completion Fund to Support Underrepresented Directors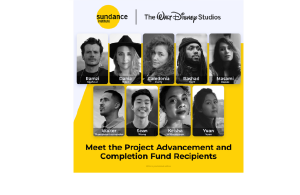 Diversity & Inclusion
November 9, 2023
The nonprofit, Sundance Institute, and The Walt Disney Studios have teamed up to announce the founding of the Project Advancement and Completion Fund, an initiative designed to provide grants to fiction directors from traditionally underrepresented backgrounds. This fund aims to empower and uplift filmmakers from diverse backgrounds and genres, fostering a more inclusive cinema landscape.
The Project Advancement and Completion Fund will support nine directors currently engaged in fiction features through Sundance Institute's esteemed artist programs. These talented filmmakers, hailing from a range of traditionally underrepresented communities, including women, AAPI, Black, Indigenous/Native, Latinx, LGBTQIA+, disability-identifying, and religiously marginalized individuals, will be granted the resources needed to bring their unique visions to life.
"After working with several Sundance filmmakers, we know how important it is for directors to develop their first independent feature films in order to take on larger projects at the studio level and we couldn't be more excited to collaborate with Sundance Institute in an effort to help them do just that," said Mahin Ibrahim, Director, Creative Talent Pathways, Representation & Inclusion Strategies. "At Disney, we believe in the power of diverse voices and storytelling, and this initiative reaffirms our commitment to empowering underrepresented talent in the industry."
As part of this initiative, each selected director will receive a $25,000 unrestricted grant, providing vital financial support to advance their projects. In addition to the grant, directors will benefit from a customized stream of support, ensuring they have access to the necessary resources, mentorship, and industry connections to navigate the filmmaking process successfully.
As a Sundance Institute grantee, the selected directors will also enjoy festival benefits and be part of Sundance ELEVATE, which includes professional development and specific learning opportunities to help them during their time in the cohort. They will also benefit from learning and community opportunities through Sundance Collab, the Institute's digital space for artists, granting them unlimited access to the esteemed Master Classes and other live event recordings in the expansive video library.
"Diverse communities often encounter formidable barriers when striving to break into the industry. We are thrilled to join forces with The Walt Disney Studios to champion the essential work of nurturing underrepresented voices," said Michelle Satter, the Founding Senior Director of Artist Programs at Sundance Institute. "We're honored to create this pioneering program in support of nine exceptional filmmakers during the inaugural year of this initiative."
Meet the directors selected for the inaugural cohort:
Ramzi Bashour
About the Artist: Ramzi Bashour is a Syrian-American filmmaker based in New York. He grew up in Beirut and has worked as a cook, baker, journalist, and teacher. His short The Trees won the International Special Jury Prize at Clermont-Ferrand in 2021 and he was a Sundance Institute Fellow in 2022.
Project: Tomahawk Springs tells the story of 17-year-old Daniel, who is expelled from high school in Indiana when his Lebanese mother, Layal, agrees it's best he move out to his father's place in California. With a plan to meet Dad halfway in New Mexico, mother and son hit the road, and encounter themselves along the way.
Dania Bdeir
About the Artist: Lebanese-Canadian filmmaker Dania Bdeir gained acclaim for her NYU thesis film In White and award-winning short Warsha, shortlisted for the 2023 Academy Awards. A Screen Daily Arab Star of Tomorrow, Bdeir is developing her first feature, Pigeon Wars which was selected for the Sundance Screenwriters lab. She is managed by Anonymous Content.
Project: Pigeon Wars follows Rana, a college student trying to reconcile a difficult secret from her past, who becomes obsessed with conquering the male-dominated pigeon wars of Beirut. With the help of Hassan, a kindred spirit with a secret of his own, she embarks on a mission to catch a rare bird – the Nicobar.
Caledonia Curry
About the Artist: Caledonia Curry, in her art practice, known as Swoon, is a contemporary artist and filmmaker, recognized around the world for her pioneering vision of public artwork. She is currently developing a full-length narrative movie that will mesh drawing, immersive installation, stop-motion animation, and her collaborative work, with the traditions of storytelling through film.
Project: Sibylant Sisters Growing up with a stuporous witch as a mother, the Sibylant Sisters, Caelum and Terra, fend for themselves in a sometimes delightful, sometimes terrifying world of ogres, gnomes, toads, paper dolls, and the WeeWitch Katarina. To survive, they'll need to learn how to make their own magic.
Rashad Frett
About the Artist: Rashad Frett is an award-winning Caribbean-American filmmaker based in New York City. He pursued the arts seriously after experiencing 9/11 as a U.S. Army combat medic. Frett is an MFA graduate of the NYU Tisch Graduate Film program and a 2023 Sundance Feature Film Program Fellow.
Project: Ricky, while saving up for his first car after incarceration, an ex-offender pursues some semblance of a normal life at all costs.
Masami Kawai
About the Artist: Masami Kawai is an LA-born filmmaker of Ryukyuan descent. She's an Assistant Professor of Filmmaking at the University of Oregon. Her films have screened at various venues, including the Rotterdam Film Festival, LACMA, and Palm Springs ShortFest. She was also a participant in the Sundance Director and Screenwriter's Lab.
Project: Valley of Tall Grass is a feature film that tells the story of a TV/VCR combo set thrown out, but it survives and circulates through the lives of various working-class indigenous characters of color in an Oregon town. They find forgotten memories, love, and connection through this seemingly obsolete object.
Walter Thompson-Hernandez
About the Artist: Walter Thompson-Hernández is a writer-director from southeast Los Angeles. He was named as one of Variety's "10 Storytellers to Watch" in 2021 and Filmmaker Magazine's "25 New Faces of Independent Film" in 2022. His short film If I Go Will They Miss Me was awarded the 2022 Sundance Film Festival Short Film Jury Award: U.S. Fiction.
Project: If I Go, Will They Miss Me follows twelve-year-old Lil Ant, who begins to see mysterious Airplane People around his home. His father learns his son sees them, unraveling deeper meaning and connection for the two of them.
Sean Wang
About the Artist: Sean is a filmmaker from Fremont, CA. He is a Google Creative Lab 5 alumnus, 2020 Sundance Ignite Fellow, and current Sundance Institute | TAAF Fellow. His latest film, Nǎi Nai & Wài Pó (Grandma & Grandma), premiered at SXSW 2023 where it won the Grand Jury Prize & Audience Award.
Project: Dìdi (弟弟), a feature film set in Fremont, CA in 2008. In the last month of summer before high school begins, an impressionable, thirteen-year-old, Taiwanese-American boy learns what his family can't teach him: how to skate, how to flirt, and how to love your mom.
Keisha Witherspoon
About the Artist: Keisha Rae Witherspoon is a Miami-born writer/director. Her short film T screened in 2020 at Sundance Film Festival, and later at Berlinale where it won the Golden Bear. T and her experimental short 1968<2018>2068 currently show on The Criterion Channel. She is writing her first feature film.
Project: As a major hurricane looms, an alienated young hustler seeking answers about his mother's disappearance finds solace in a mysterious woman who seizes his town, promising extraterrestrial salvation, drawing the attention of an elderly ex-government op desperate for a case.
Yuan Yuan
About the Artist: Yuan is a writer-director, graduated from the NYU Tisch Grad Film program. Her previous short films won Best Student Film at DGA, Palm Springs, Aspen ShortFest, and Jury Award at Hong Kong International Film Festival. Yuan was a fellow at the 2022 Sundance Screenwriters and Director's Lab.
Project: Late Springtells the story of a Chinese factory worker who travels to New York for her daughter's eagerly anticipated college graduation, only to be thrust into a desperate search in unfamiliar territory when she learns the girl is missing.