The Walt Disney Company Invests in Young Native American Leaders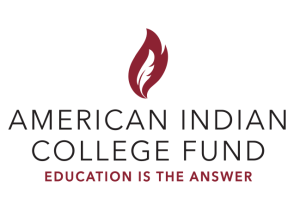 Diversity & Inclusion
July 21, 2023
At The Walt Disney Company, we've built a legacy on inspiring audiences, Guests, and consumers around the globe. Through Disney Future Storytellers, we are committed to empowering the next generation of storytellers and innovators. Through social investments and programs that provide inspiration and hands-on experience, we're increasing access to careers in media, entertainment, technology, and hospitality, and helping today's youth dream about their future, build their talents and skills, and become who they imagine they can be.
We are thrilled to take you behind the scenes of some enhanced offerings that are in development with our Disney Future Storytellers non-profit partner American Indian College Fund (AICF). The Walt Disney Company recently hosted an AICF focus group at the Walt Disney World® Resort. This focus group—representing Diné, Cocopah, and Chiricahua Apache Nations—was comprised of 3 current AICF scholars and 3 AICF staff members. Before we dive in, here are some quick facts about TWDC's longstanding commitment to AICF:
The American Indian College Fund (AICF) was founded in 1989. For over 31 years, the College Fund has been the nation's largest charity supporting Native student access to higher education.
In 2015, AICF announced that The Walt Disney Company committed $250,000 to create The Walt Disney Company American Indian College Fund Scholarship Program. The program provides Native American and Alaska Native students who have financial need with multi-year support to attend tribal colleges and universities nationwide. TWDC funds 13 scholarships annually.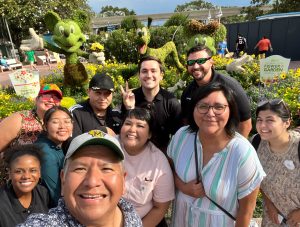 Over the course of two full days, the AICF focus group experienced some uniquely Disney magic while visiting the resort to identify areas of opportunity for the proposed 2023-2024 Scholarship and Career Exploration program. By experiencing some of the program offerings firsthand, our hope is these AICF representatives will feel equipped to encourage prospective future scholars to participate in the larger Scholarship and Career Exploration Pilot launching this Fall.
Day One – June 1, 2023
The focus group started their morning at Disney University, where they received a warm welcome and an overview of what to expect from a team of Disney representatives from our Campus Programs team.
Betsy Bourne (Operations Leadership Development Manager – DPEP) led the group through an informational session on resume writing, interviewing skills, and hospitality at Disney.
Adalys Sutherland (Guest Experience Manager, Sunset Boulevard Attractions – DPEP) visited the group to share her experience as a Disney Hospitality Leadership Program participant.
The group also got some face time with NAATV BERG leaders Dawn Jackson (Manager, Audience Management – Corporate), Megan Goheen (Integrated Planning Manager – Disney Entertainment Content), and Jenny Tran (Content Planning Lead, Direct-to-Consumer – Disney Entertainment Content). Vivian Ware (Diversity & Inclusion Manager – DPEP) provided additional information on the Inclusion Key within DPEP.
At EPCOT, the focus group experienced some VIP magic including:

An overview at The American Adventure Pavilion's exhibit, "Creating Tradition: Innovation and Change in American Indian Art," with Deb Van Horn (Senior Curator, Walt Disney Imagineering – DPEP)
A backstage tour of The Land with Sara A. Green (Education Manager, Guest Animal Experience Programs – DPEP) and Laura Kleiss (Horticulturist & Student Program Manager – DPEP)
An intimate conversation with Kartika Rodriguez (VP, Epcot – DPEP) and a dessert party with fireworks at the UK Pavilion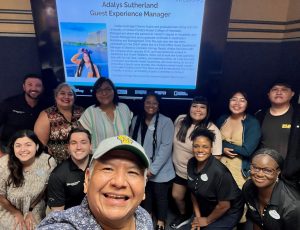 Day Two – June 2, 2023
At Disney's Animal Kingdom Theme Park, the focus group received an overview of Disney's Animal Science and Environment (ASE) including their pollinator gardens, their DEI initiatives with Nadine Kocanjer (Guest Animal Experience Director, Animals & Science Ops – DPEP), and a meet & greet with Dr. Zak Gezon (Conservation Manager – DPEP).
The group also had the opportunity to ride Kilimanjaro Safaris and view the ASE presenters in action with Guests.
The adventure continued over at Flamingo Crossings where they received a tour and overview with Jessica Zaucha (Business Support Manager, Campus Programs).
The whirlwind two-days concluded with time for the focus group to debrief and reflect on their experiences.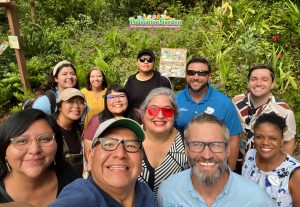 We are excited that this meaningful time with AICF representatives is just the start of a deeper partnership to come. We are eager to integrate the feedback and learnings we received from this focus group into our upcoming programming and initiatives. This work is truly a cross-function and cross-segment effort that shows how much we can accomplish by partnering together for a common goal. By taking the time to understand the unique needs of this community and scholar base, we are able to move with more intention, care, and thoughtfulness as we seek to empower the next generation of storytellers and innovators.
For more information on Disney Future Storytellers, visit impact.disney.com/charitable-giving/next-generation/